Examples of awards in Category 1: Logo NEW.
Categories
Category 1: Logo NEW – logo + 1 identity element
Category 2: Logo REDESIGN – logo old and new + 1 identity element
Category 3: IDENTITY – logo + 3 to 20 identity elements
Guest of Honour: Brazil
This year for the first time we have a country as Guest of Honour: Brazil. In the future, we want to name one country or region each year as Guest of Honour. This gives us the opportunity to pay special tribute to the creative logo designers of a country. So if you are from Brazil: Take part! If you have questions about the participation, please contact our jury member from Brazil: Rodrigo Faustino rodrigo@commgroup.com.br
How to Participate in Category 1: Logo New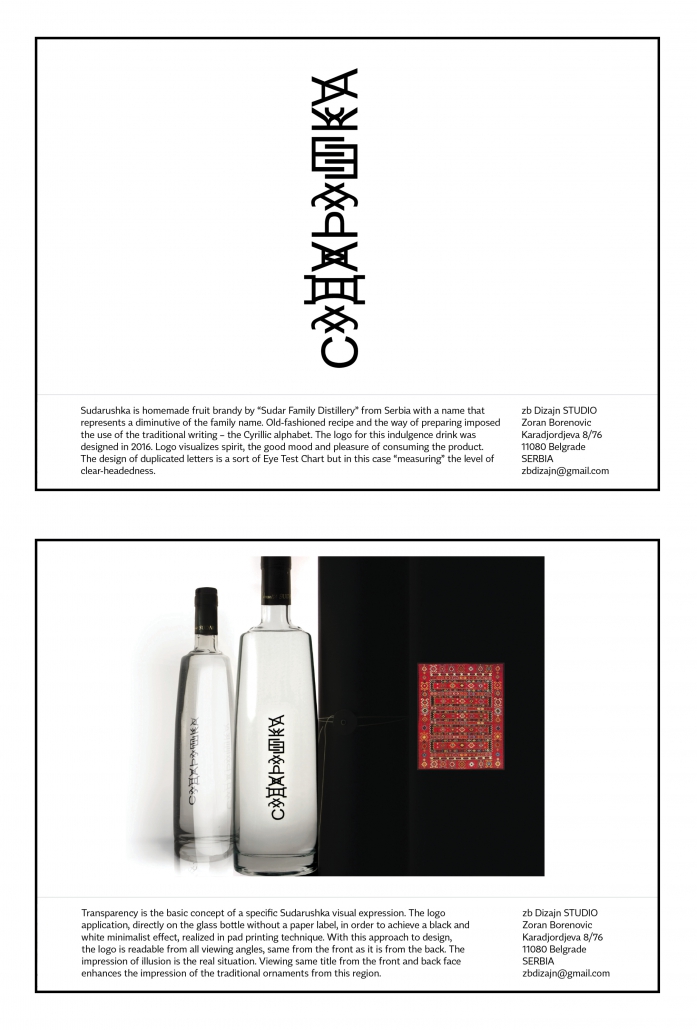 The first page shows the logo, the second examples of the logo in use.
The upper part shows the logo.
At the bottom are explanations in English language. 550 signs maximum length, including word spaces. Please indicate in which year the logo was designed. Please put your address and email on the right side of each page:
name of company
name of designer
street and house number
postal code and city
Country
email
It is helpful for the jury to include an example of an application of the logo. This can be, for example, a letterhead or a business card. Please enclose the example in the same design as the logo, also with your address.
Format: Please create a horizontal format page for each logo. (Meant is DIN A4 or letter format or something similar horizontal.)
Digital file: Save your entry as Pdf file. Produce one Pdf file for each logo that you want to enter.
Send by email: Send all your entries to this email: mail@wolda.org We will confirm receipt of your submission by email.
Awards
Main awards: The jury will decide about awards in gold, silver and bronze.
Outstanding individual achievement: Award of Excellence
In addition to the main prizes, there are also the "Awards of Excellence" for outstanding individual achievements. These awards – like the main prizes – are on the list of winners.
Publications
The work which has been awarded by the jury will be published in a yearbook. It will be shown on the website wolda.org. Publications are also planned on Facebook, Twitter and Linkedin.
Schedule
Contest period: You can submit work created between January 1, 2017 and September 12, 2019.
How many logos: You can enter as many logos and identities as you want.
No drafts: Drafts are not allowed. Logos or identities must be in use.
Start of submission phase: May 1, 2019
End of submission phase: September 18, 2019
Your entry has to arrive by email here: mail@wolda.org
November 30, 2019: Announcement of the winners. The list of winners will be prospectively published on the website www.wolda.org
December 2019: In December, all participants are informed of their results by email.
January 2020: At the end of January the certificates will be sent by email.
Participation fee and deadlines
Category 1 and 2:
Early-Bird Deadline and Regular Deadline are over.
Late Deadline September 18, 2019 – 70,00 Euro
Category 3:
Early-Bird Deadline and Regular Deadline are over.
Late Deadline September 18, 2019 – 200,00 Euro
Invoice: Request an invoice at mail@wolda.org  Give us your exact billing address and we'll send you an email with the invoice.
Companies within the EU: If your company is in a country of the EU (European Union) we need your VAT ID number. Please add this number to your address, if you have such a number. More informations about this number: here If you don't have a VAT ID number, please inform us. It's no problem.
Payment: Simply pay with paypal via the website www.wolda.org  Banktransfer is possible, specially within the European Union. You will find the bank details on the invoice. The payment has to be done before the deadline of the competition. Checks are not allowed.
Troubleshooting: If you have problems with the deadline of participation and/or the deadline of the payment, please contact us: Norbert Küpper, mail@wolda.org
You can also upload your files via our Upload Center.